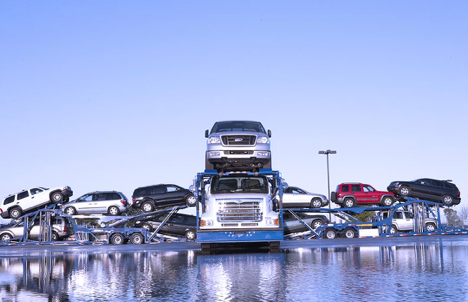 When planning out how you're going to be moving a car from one state to another, you might run into some new concepts. Luckily, we're ready to give you the scoop on everything you need to know to make it a success.
For starters, one concept that you might find new, especially if you're moving cars across vast spaces with someone else's help, is the concept of open and enclosed transportation. While seemingly simple, being careful about what each type of transportation can offer you will ensure you get your money's worth and come away completely satisfied.
What is it?
In the simplest terms, open transportation is one of the most common shipping methods. It features your car getting safely secured in place to the transportation vehicle. If it's flatbed shipping, your car will be completely exposed to the elements from all sides.
If it's a method that holds cars on top of each other, your car might be somewhat better protected, but it will still generally be exposed.
Enclosed transport, on the other hand, secures the car and then places it within 4 metal walls – ensuring better protection. Depending on how seriously you take the risk of weather conditions, flying objects, or rocks chipping away. Enclosed transportation is not always the right choice, as most car deliveries are done through open transportation.
However, knowing is half the battle – here's how to decide which choice is best suited for you.
Open Shipment
When shipped openly, auto shipping companies will typically place your car in a long, multi-level trailer at the back of a specialized truck. If you've got a standard model car or one that was already used – this is likely the point where you stop reading and opt for this possibility. Typically, there is no significant advantage to enclosed shipment for cars that don't require it, at the very least not enough to call for the increased price tag.
Open shipment is faster since there is more demand for it – it is better structured and more readily available, as well as cheaper! As there are more open carriers on the road, you can choose from a wider range of times and places of delivery, so you can fit your schedules better. Additionally, there are more reviews of companies for their open shipment services, so you get a better idea of what to expect when looking for one.
The one downside is that your vehicle will be exposed to weather conditions for the entire duration of the shipment. Additionally, road debris of all forms has free access to your vehicle, meaning your potentially brand-new car could require thorough washing.
Enclosed shipment
When choosing an enclosed shipment option, car shipping companies will be placed in a fully enclosed carrier that protects your car from weather conditions and debris. Additionally, there is a higher level of security and protection offered, which is perfect for higher-end vehicles. Sports cars, luxury vehicles, or antique cars are typically the best choice for shipping enclosed. Essentially, if the immaculate condition of the car is one of your foremost concerns, it's a clever idea to consider this choice.
Typically, enclosed shipment's higher price tag comes with added benefits such as better insurance, on-demand communication with the driver or manager, as well as specialized loading methods.
However, this often comes at the cost of a significant price increase – up to 30% – with fewer options in terms of delivery dates and locations or companies to choose from!
The rule of thumb is: if it's sold en-masse, it's probably best to deliver it through open shipment. In all other cases, an enclosed shipment is recommended. Regardless of which possibility you choose, we hope you'll have a wonderful experience!